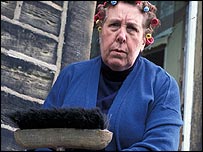 No, we're not suggesting that your mum has signed a contract with Jamster and is planning to release a dreadful Hi-NRG dance album in time for Christmas. Although you might want to ring her to make sure. Instead, the Loose Wire blog has suggested that the best ringtone for any mobile user might be their mother's voice.
It's all based on US Air Force research in the 1950s, that found pilots responded to automatic cockpit warnings much better if the orders were recorded by their mothers. For example: "Do wrap up a bit warmer dear, have you had your sandwiches yet, oh, and TAKE EVASIVE ACTION!"
Anyway, Loose Wire suggests that on phones that allow it, you should get your mums to record herself calling your name, then use it as your ringtone. It's certainly a thought, although possibly not appealing for those of us who disloyally spend our days avoiding mobile calls from our mothers.
Loose Ends blog (via Ringtonia)