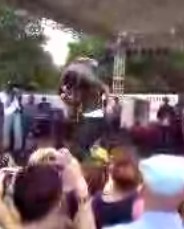 If you're a top pop star planning to throw a fan into the crowd, for heaven's sake make sure nobody's filming the incident on their cameraphone. R&B singer Akon didn't heed those sensible words, and is facing a police investigation as a result.
What happened was this: someone lobbed an object at Akon from the crowd during a gig. He got them brought up on stage, then threw the offender back into the crowd. Quite violently. Yet when footage of the incident appeared on YouTube, the police took an interest, and now Akon is facing charges of endangering the welfare of a minor and second-degree harassment.
Akon says it was a staged publicity incident (if that's true, he probably hired the people toting cameraphones). But it's the latest example of incidents happening at gigs making their way straight onto YouTube thanks to people's mobiles. Usually, of course, it's stars falling over, rather than fans being 'falled over' by stars...