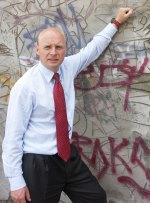 The introduction of a law to stop people gabbing on their phones while driving was definitely a good thing, although anecdotal evidence (i.e. what we've seen while out and about) indicates that some people continue to flout the law.
Among them is immigration minister Liam Byrne, who was fined £100 plus costs on Friday after being caught using his mobile at the wheel. He claimed in court that he was taking an important call about a deportation case, but the magistrate rightfully decided that if the call was that important, Byrne should have pulled over before taking it.
That's one politician who'll have hopefully gone out to buy a Bluetooth headset this weekend. By the way, in case you're wondering, he didn't do that graffiti in the photo. Honest.
(via IHT)