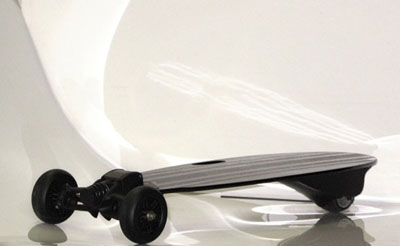 Forget Bluetooth headsets, wireless photo transfers, or local multiplayer games. The best use for Bluetooth we've ever heard of is a new gadget called GroundSurf. It's... a Bluetooth-enabled skateboard with an electric motor between its front wheels. You accelerate and brake using controls on an application on your phone.
It's not going on sale until next year, and is fraught with worries on our part: for example, if you're zooming down the street on it and somebody calls you, can you control the application and talk at the same time? Or do you end up slamming into a wall due to an inability to brake?
Still, we're intrigued nevertheless, and would love to have a go on one. Watch this space (or our local hospital) for news of whether we manage it.
(via The Cell Freak)