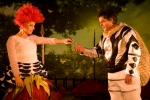 The opera isn't just about fat ladies and glass-shatteringly high notes. Samsung's G800 is playing a starring role in the Vienna State Opera's new performance of Wagner's Nibelungenring for Children, and even gets a mention in the official cast list.
Specifically, the phone is used to take a picture of the sleeping Bruennhilde, and then that photo is shown to Siegfried (apologies to anyone who's not up on their Wagner characters - suffice to say, it's a pretty important part of the plot.
As far as we're aware, there aren't any specially written arias about going into a tunnel, losing reception, or reaching the 17th level of Tower Bloxx. But perhaps they'll come in future operas.
(via Picturephoning)