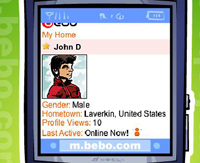 Have you got a Bebo profile? If not, your children probably have: the social network is extremely popular with younger internet users here in the UK. Earlier this year, Bebo announced plans to go mobile in partnership with Orange, and that partnership has just been extended with a new subscription deal.
For £3 a month, Orange customers can sign up to Bebo Extra, which gives them unlimited access to Bebo's mobile internet site without paying any data charges. They'll be able to send comments via SMS, receive notifications back in return, and also send Bebo Mails by text.
It sounds like a good deal, although we wonder if this sort of thing will be free in the not-too-distant future, once users are on unlimited data contracts, and the social networks have advertising on their mobile sites. MySpace is working with Vodafone and O2, while Facebook has an operator-neutral WAP site, so mobile social networking is clearly on the up.