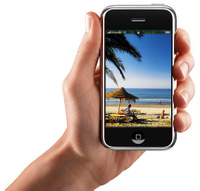 Have you ever experienced the phenomenon known as 'bill shock'? It's what happens when you get your mobile bill at the end of the month, and it's much more than you expected - either because you've overstepped your texting/talking limit, have used too much data, or spent too long calling home from that beach holiday.
Well, spare a thought for a man called Pierre, who took his US iPhone on holiday with him to Europe, and racked up a $4,190.76 bill, mainly for data roaming fees. That's got to be a nasty surprise, although he did manage to talk his operator into retroactively putting him on the 20MB-per-month international data plan, which cut the bill to a more manageable $900.
We wonder what Pierre was thinking when he went online with his iPhone, and why he didn't try to find Wi-Fi hotspots instead.
Continue reading "The $4,190.76 iPhone bill that proves Wi-Fi roaming is the future" »