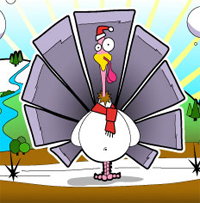 It's nearly Christmas, so why not jazz up your phone with a fun turkey ringtone? Admittedly, we can think of about 21 reasons why we wouldn't want our mobiles going gobble-gobble on the train, but...
The UK Turkeys website, which has been set up to persuade people to buy local turkeys for their Christmas dinners, is offering two different turkey-themed ringtones, which you can download for free via your PC, or pay 50p to receive as a direct download to your phone.
What about poor old vegetarians though? If anyone's selling a ringtone based on nut roast, please let us know!