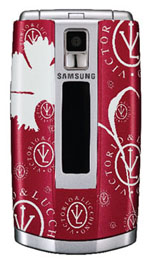 There must be something in the water at Samsung HQ - or, alternatively, some prankster has switched their magazine subscriptions so they're getting Vogue instead of Mobile Choice. Perish the thought! Why? Because Samsung has only gone and created another fashion phone.
This time, it's Vittorio & Lucchino that's responsible for the phone's styling. We assume they're considered trendy by those in the know, but we're a bit too scruffy to know for sure. We can say that the phone itself looks very nice indeed, and is based on Samsung's Z240 clamshell handset.
Here's the bad news, fashionistas. You can only get one in Spain on the Orange network. If that hasn't put you off, the phone's expected to cost a bargain 59 Euros (about £41).
(via Unwired View)