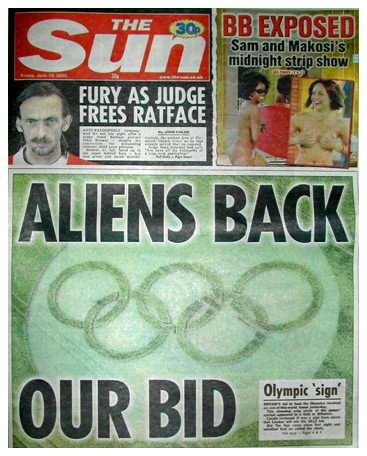 For most UK newspapers, the limit of their mobile ambitions is selling ad space to ringtone companies, and maybe launching their own WAP sites. The Sun has done both of those, but now it's going further with an innovative new plan to put Quick Response (QR) mobile barcodes on adverts within the newspaper.
What are they? Well, they're little symbols placed on adverts, which you can point your cameraphone at, take a photo, and then it's converted into a WAP link, taking you to the site of whichever company placed the advert.
Companies using the barcodes already include Ladbrokes, Sky and Twentieth Century Fox (the last two aren't surprising, as they're part of the same megacorporation as The Sun). To get them, you'll need to download a QR reader application though, created by a firm called i-nigma. QR codes have been popular in Japan for several years, but this is the first truly mainstream attempt to use them in the UK.
(via MocoNews)