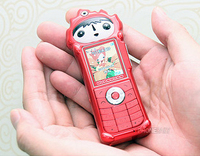 Looking for a cutesy-yet-rare mobile handset to make your friends think you're a gadget maven? Of course you are. Check out the Fuwa phone, which is being launched in China as part of the build-up to next year's Olympics.
The character is Fuwa Huanhuan, who's the official Games mascot. You get a 1.5-inch screen, a 256MB memory card, music and video playing capabilities, and a 1.3-megapixel camera. Well, it is designed for children: they're not so fussy when it comes to specs. Probably.
Maybe the organisers of the 2012 London Olympics should get working on a similar idea for that event, as long as they don't use that godawful official logo, of course. We'd shun any phone that featured that.
(via New Launches)