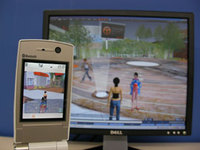 If you're a techy type, you might already be aware (or even using) Second Life. It's a 3D virtual world that's been much in the news this year - you can move in, create an avatar, and wander around chatting to people and buying virtual goods. It's the future, apparently. Well, so some people say.
Anyway, you need a pretty powerful computer to run Second Life, yet in Japan, moves are afoot to make it work on mobile phones. Operator NTT DoCoMo is preparing to launch the application, and is currently recruiting 100 beta testers.
It's set to offer many of the features of the full PC version, allowing people to log into Second Life when out and about. Purists may argue that the experience can't possibly be as good, but if you need your virtual fix while enmeshed in pesky real-world activities (like going out and meeting people), it could be just the thing.
(via Wireless Watch Japan)