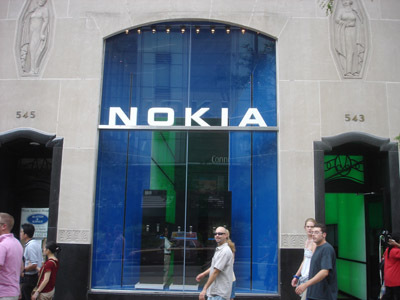 If you've ever been to the Apple Store on Regent Street, you'll know it's a gleaming monument to all things Apple, with visitors dribbling over the latest iPods and Mac computers. It's as much about showing off cool new products as it is about actually selling them. And now Nokia's getting in on the act with its own Regent Street store, which was announced today.
On one level, it's a sensible move - a chance for Nokia to showcase its latest phones away from the clutter of rival firms' handsets that you'd find in, say, Carphone Warehouse. Of course, if you're a punter looking to buy a new phone, you might want to be able to compare Nokia's phones with the competition, so in that case the Nokia Store won't be for you.
But what we're wondering is where the operators fit in here, if at all...
Continue reading "Where will mobile operators fit into Nokia's new London store?" »