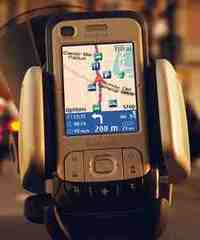 GPS satellite navigation isn't in that many mobile phones yet, but the number is increasing. Over on the Mobile Choice site, you can read a two-part review (part 1 / part 2) of the Nokia 6110 Navigator handset, which includes Route 66 Navigator software and a full set of UK streetmaps for getting around.
"We have to say it was hard to fault the 6110 sat nav performance during our test. Its route search and calculation was slick and speedy, the voice instructions carried well in noisy car environments, the Route 66 software was stable and although you could argue the display is a tad small, it's a small price to pay for a convenient convergence package."

Does this mean thousands of motorists will be throwing out their standalone satnav gadgets and relying on their phones, though?
Well, not in the short-term. One issue is the reduced screen size of mobiles, meaning that these satnav applications will need to be designed to make more use of clear spoken directions. Of course, iPhone-sized handsets have larger touchscreens, so may prove to be the most suitable phones for GPS applications.
I can't help thinking that battery life will also be a barrier. What's the point of arriving at your destination safely if your phone's out of juice after an hour or two's GPS action? Charging cradles will be vital if GPS phones are to really prove their worth.
It's also still unclear whether motorists will want focused GPS navigation phones (like the 6110), or will prefer GPS to be merely one among a glut of multimedia features (as with the Nokia N95). But the point is these are early days for mobile-based navigation. The satnav makers might not be quaking in their boots just yet, but give it a year or two, and their devices could be gathering dust on the shelves.