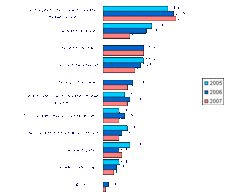 Bad news if you're a mobile phone manufacturer trying to flog expensive new handsets. According to analyst Continental Research, users aren't interested in advanced features. In fact, when asked in a survey, 68% of respondents said they'd prefer a more basic phone that's easier to use and more affordable.
Continental has also been tracking what people say they do with their phones, covering 11 activities from downloading ringtones and games through to watching mobile TV. In eight of the 11 activities, a LOWER percentage of mobile users is doing it now than were 12 months ago.
"For some time now mobile networks have aggressively promoted various advanced mobile services, but this approach seems to be falling on deaf ears," says Continental's James Myring.
"The numbers performing these activities remains relatively low. Whilst technical issues are part of the explanation, much of the problem is that many mobile users are simply not interested. Mobile networks trying to push these advanced features in many cases are simply knocking against a locked door."
The problem for the mobile industry is whether they can turn this trend around and give people more reasons to use the new features in their handsets. It's fair to say that a lot of people really do just want to talk and text on their mobiles, with as long a battery life as possible.
However, for the rest of us, it's surely more a case of the mobile operators getting the pricing right to use some of these new services, while the handset manufacturers focus on making them easy to access and use when we're playing with our new phones.