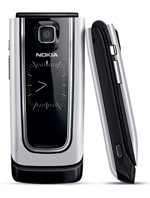 Nokia announced the 6555 phone yesterday, and despite it being a super-stylish 3G clamshell, much of the coverage has focused on... its analogue clock. Yes, there's a proper traditional clock beaming out from the phone's external screen, rather than the digital time display you'd expect.
We think it's part of a wider trend that, if it didn't conjure up horrendous memories of numerous Tory politicians bonking their secretaries, we'd call 'Back To Basics'. In short: phones have got way complex in recent years, and so it's only logical that a design trend has sprung up opting for the more retro approach.
It's not just analogue clocks, either. We're already fond of any mobile that comes with a traditional 'ring-ring' ringtone on board, rather than the futuristic bleeps and bloops that clog up most cutting-edge handsets (yes Samsung, we're looking at YOU, although you're not the only culprit by any means).

Retro mobiles don't have to herald a return to the days when phones were so heavy, you wore them as backpacks. Although we wouldn't be surprised to see someone try that approach. But it's more about recapturing a golden age when your phone's battery lasted for days at a time, and you didn't have to worry about dodgy mobile TV reception or missing-in-action MMS messages.

The big response to our post the other day on Continental Research's latest survey indicates that plenty of you agree, and would be prime candidates for retro phones, if they're solid and reliable. Whether that includes old-skool clocks, however, remains to be seen.