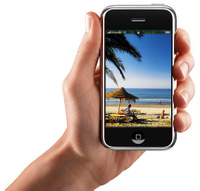 Have you ever experienced the phenomenon known as 'bill shock'? It's what happens when you get your mobile bill at the end of the month, and it's much more than you expected - either because you've overstepped your texting/talking limit, have used too much data, or spent too long calling home from that beach holiday.
Well, spare a thought for a man called Pierre, who took his US iPhone on holiday with him to Europe, and racked up a $4,190.76 bill, mainly for data roaming fees. That's got to be a nasty surprise, although he did manage to talk his operator into retroactively putting him on the 20MB-per-month international data plan, which cut the bill to a more manageable $900.
We wonder what Pierre was thinking when he went online with his iPhone, and why he didn't try to find Wi-Fi hotspots instead.
You'd think anyone with an iPhone would be savvy enough to realise that operators are gimlet-eyed vultures when it comes to roaming, especially when it comes to data charges. Yet the iPhone has Wi-Fi, meaning that if Pierre had managed to restrain himself from checking emails and surfing the net until he was in range of a Wi-Fi hotspot, he would have only paid the one-off fees to go online (typically $10 or so for an hour, in our experience).
There are thousands of hotspots throughout Europe, in hotels, bars, cafes and airports, so it wouldn't have been hard to find them. And while you can argue that even Wi-Fi access is overpriced, it pales in comparison to the kind of data charges racked up by Pierre on his holiday.
It's also why Wi-Fi will become an increasingly important feature to have in phones. Think about all those company directors who can't put their Blackberries down for a second, even on holiday. Or regular people who don't want to miss out on their Facebook / YouTube fix while lazing about by the pool (if hotel pools don't have a hotspot, they aren't worth lazing about by, obviously).
The moral, in short, is that if you're planning on travelling in the near future, make sure you have a Wi-Fi phone, if your operator doesn't offer a reasonably priced roaming data tariff. Pierre's case of bill shock may be extreme, but it could happen to anyone.
(via Switched)