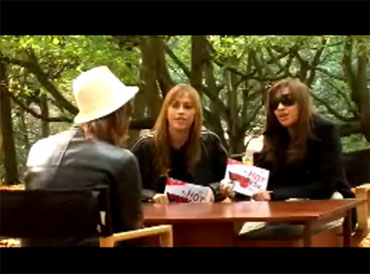 The All Saints comeback didn't, it's fair to say, go that well. How they must be gritting their teeth seeing the almighty fuss that The Spice Girls are currently getting. However, that hasn't got All Saints stars Nicole Appleton and Melanie Blatt down. They're co-hosting a new ITV show called The Hot Desk, which has been made exclusively for mobile phones.
Joined by T4 presenters Dave Berry and Emma Griffiths, they'll be interviewing celebs, schmoozing at parties, and generally bothering people with their big desk (that's the gimmick, see). Each show will be two minutes long, and will be free to access from ITV's own mobile site. Data charges will presumably apply though, so watch out if you're not on a flat-rate tariff.
Liam Gallagher is the first interviewee. Hang on, isn't he Nicole's fiance? Keep it in the family, then.