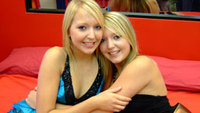 Pretty soon, you won't have to go through an audition process to appear on Big Brother. Mobile company Ericsson has launched a new mobile video service called Me-On-TV, which lets you upload videos from your mobile phone to share with a wider community of users.
Ericsson plans to sell the technology to broadcasters, websites and mobile operators, with the first customer being Endemol - the company behind Big Brother. The idea is to use it to make shows like Big Brother even more interactive.
How? Think about spin-off shows like Big Brother's Big Mouth, where an audience of BB fans give their opinions on recent events. Now imagine a version hosted by a presenter, but with the opinions coming from viewers all over the country, via uploaded vids or live videocall interviews. It's being used in the Netherlands first, but hopefully Me-On-TV will feature in the next UK Big Brother, in some way.
(via MocoNews)