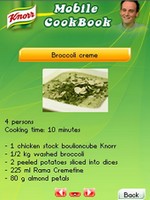 Making soup is easy. Step 1: crack open a tin of soup. Step 2: heat it. We told you it was easy. Yet if you prefer the complicated route of actually chopping and cooking ingredients, we've found a mobile application that might make that a bit easier too.
It's called Knorr: Mobile Cookbook, and it's a Java application offering 20 delicious soup recipes - we assume most if not all of them involve Knorr stock cubes, obviously. The application also gives you cooking instructions and pictures.
The bad news is that right now, you have to be Polish to get the application, as it's only being sold there. But it's probably only a matter of time before it comes to the UK too, since we are a soup-loving nation. Until then, we'll have to stick with the cans.
(via The Cell Freak)