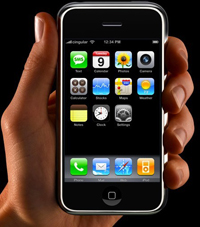 It's iPhone launch week here in the UK, with O2 and Carphone Warehouse stores around the country gearing up for a rush of customrs on Friday. With that in mind, Apple and O2 have just announced final details of the handset's launch, including the news that it will go on sale at 6.02pm this Friday (O2, geddit?) at more than 1,300 stores around the UK.
O2 says it has hired and trained hundreds of iPhone specialists who'll be in-store showing people how to use the device, while Apple will be holding seminars in its own Apple Stores around the country. As we've reported before, the phone itself will cost you £269 on the day, and you'll have to sign up to an 18-month contract for at least £35 a month.
However, the good news is that O2 has binned its 'fair usage' cap, so unlimited data really will be unlimited. Well, as long as you're not using it as a data modem for your laptop, that is.