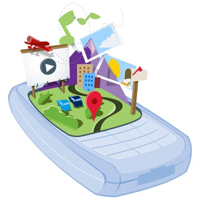 For the last few months, there's been rampant speculation that Google was about to announce its own mobile handset: the Gphone. However, yesterday Google set those rumours to rest (sort of) by announcing instead a new mobile platform codenamed Android, which it says will make it easier for developers to create mobile applications that run across a range of handsets.
Alongside this, there's a new organisation called the Open Handset Alliance, which will produce phones and services based on Android. Members include Google (obviously), as well as HTC, Samsung, LG, Motorola and T-Mobile, with 34 members in all. Notable absentees include Apple, Nokia, Palm, Vodafone, Yahoo and Microsoft.
The first handsets based on Android should go on sale next year. So does this mean the end of the Gphone rumours? Not quite. It's still possible that Google may launch its own mobile phone based on Android, alongside all the others coming out of the Open Handset Alliance members. So watch this space.