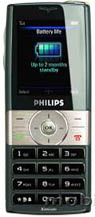 That's right: two full months of standby time for a mobile phone. Which considering most new handsets need recharging every couple of days is some achievement.
The phone in question is Philips' Xenium 9@9k, so the downside is that it's not one of the major phone brands. The company is promising 1,440 hours of standby battery life, and an equally impressive 17 hours of talktime.
Its camera is only VGA-resolution, but it does have Bluetooth, a built-in FM tuner, and a microSD memory card slot. Hopefully this won't be the last phone to offer supercharged battery life, although there must be a limit to how long current phone batteries can stretch before manufacturers need to switch to another technology, like futuristic fuel-cells.
(via Engadget Mobile)