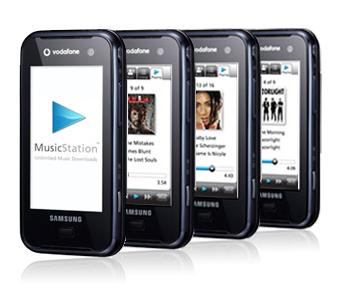 It's a momentous day for mobile music in the UK, with the launch of two high-profile services letting you listen to tunes on the go. In the red corner, we have MusicStation, an unlimited subscription service being offered through Vodafone.
And in the blue corner, there's the Nokia Music Store, which works on phones and PCs, and is billed as an iTunes rival. We thought that, since they both launched today, we should compare and contrast the two, starting with...
MUSICSTATION
This is an unlimited subscription service, meaning you pay £1.99 a week on your mobile bill, and can then download as much music as you like from the million-plus tracks on offer. Omnifone, which runs the service for Vodafone, has signed deals with all four major labels as well as several indies, so chances are you'll find plenty of music you like.
It's exclusive to Vodafone, and for the moment only works on 13 handsets (you can find out which here), although more will be added in the weeks ahead. It involves downloading an application to your phone, which then lets you browse, sample and download songs.
There's also some neat social networking elements, allowing you to create playlists and share them with friends who are MusicStation subscribers. Omnifone describes the service as an iPhone-killer, which is more marketing bravado than serious comparison. It certainly looks impressive though, and Vodafone pulled out all the stops for this morning's launch, getting Girls Aloud along to show it off.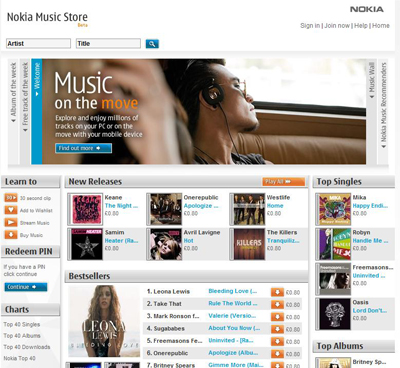 NOKIA MUSIC STORE
Also launching today is Nokia's attempt to steal some of iTunes' thunder. The Nokia Music Store works as a WAP site and website, although the mobile version currently only works on two phones: the new N81 and N95 8GB models. It sells songs for 80p each, while albums retail for £8. However, there's also an unlimited streaming option which involves paying £8 a month, which then lets you play (but not download) as much music as you want from the store.
Again, Nokia has done deals with all the major labels and various independents, so there's plenty of music available. They've also created numerous ways to find it, for example genre playlists (ever wondered what the best Britpop songs were?) and celebrity recommendations. You can play your downloaded tracks from within your web browser, or transfer them to your phone - more handsets than the two listed above can play tracks, so check here to see if yours will work.
The mobile application looks set to be Nokia's strong point, letting people sample and tag tracks on their phone, for later download on their PC. The store also lets you build your own playlists, while also importing your existing MP3s for playing in the web browser too.
SO WHICH IS BEST?
Excuse us for sitting on the fence here: it's horses for courses. MusicStation is a very cost-effective way to get music on your phone, assuming you're on Vodafone and have a compatible handset. Meanwhile, Nokia's store is very easy to use, but obviously you'll need to have one of the (few) compatible phones.
The bigger point, though, is that both are innovative and forward-looking approaches to the area of mobile music, which can only be a good thing, given the relatively low popularity of existing mobile music services.
Our suggestion is that (if you can) you should try both out, since Vodafone is offering a week's free subscription to MusicStation, while the Nokia Store doesn't need any money up front before you can sign in and have a look around.