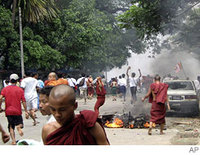 As you'll know if you've been watching the news this past week, there's something of a popular uprising going on in Burma, which has been met with a violent crackdown by the military junta there. But with few foreign journalists and camera crews allowed into the country, the gap's been taken up by Burmese demonstrators with mobile phones.
Picturephoning has a post on the developments, explaining how footage of the violence has been shot on camphones and then sent out to news organisations like the BBC and CNN, who've then aired it. It's a sign of how technology is giving new hope in situations like this, where a few years ago, a government or dictator would be able to prevent information leaking out.
That said, phones aren't going to bring the Burmese generals down at a stroke: it's now been reported that they're cutting internet access and looking to do the same thing to the mobile networks in Burma, in response to the citizen journalists' efforts.
(via Picturephoning)