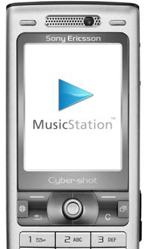 Mobile music is set to be the key battleground for the UK mobile operators this Christmas, and while Apple hasn't announced which operator will be selling the iPhone, you can bet that the ones that miss out will be pushing their own music phones and services hard.
Take Vodafone, which has just announced an exclusive deal with Omnifone to launch the latter's MusicStation subscription service in the UK this November. It will allow users to pay £1.99 a week for unlimited song downloads from a catalogue of more than a million tracks, with the ability to share playlists and songs with friends added into the mix.
It's not the first mobile music subscription service, but it's the first big test in the UK of whether mobile users will trust a weekly subscription to get their music. While the infamous ringtone subscription rip-offs will have made many users wary of signing up to this kind of deal, the fact that it's Vodafone should set their hearts at ease.
The important thing for Vodafone is that (assuming it doesn't get the iPhone), it has strong competition in the form of handsets with MusicStation preloaded on. It will be a case of persuading users that £8-£10 a month for unlimited tracks will work out as more cost-effective than buying them for 79p each from Apple's iTunes Store.