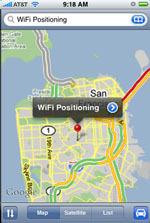 The iPhone doesn't have a GPS chip inside for proper satellite navigation, but rumour has it Apple may include the feature in its next-generation iPhone, which is due out next year. However, a new 'virtual GPS' iPhone application from Navizon may prove whether such a feature is much desired by users of Apple's handset.
The application works by calculating your position using cellular signals and Wi-Fi access points, which apparently lets it get your position down to a few hundred feet. That's not good enough for turn-by-turn driving navigation, but fine for pinpointing your local area and serving up maps.
The app has launched in the US, and has a free trial period of two weeks, after which users have to pay $25. If Apple is considering introducing full GPS, they'd be wise to keep an eye on the popularity of Navizon's application.
(via NaviGadget)