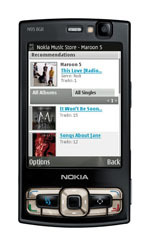 Last week, Nokia finally announced its long-rumoured music downloads store, called logically enough the Nokia Music Store. You can read all the details over on the Mobile Choice website. Nokia was keen to portray the store as a competitor to Apple's iTunes Store. However, that's an ambitious claim, given Apple's dominance in the music downloads market.
We've put together five reasons why Nokia's ambitions aren't just bluster. Even if iTunes' position as top dog isn't under threat yet, Apple should be looking over its shoulder a bit nervously at its new mobile-focused competitor. Starting with...
1. The rise of mobile music. Nokia already claims that it's the world's biggest manufacturer of MP3 players, thanks to the tens of millions of music-capable handsets it shipped last year. Although it's a bit early to write iPods off as dead dodos, there's a definite shift towards people listening to music on their phones, which the Nokia Music Store aims to capitalise on.
2. iTunes doesn't do mobile... yet. Okay, it does, but only for one handset: Apple's own iPhone. So assuming that millions of people are starting to listen to music on their phones, Apple isn't currently well placed to take advantage - particularly with its proprietary file formats for downloaded songs. This is an opportunity for Nokia to steal a march on its largest competitor.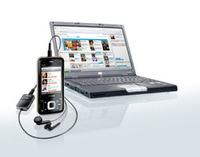 3. The music industry wants Nokia to succeed. The average music fan doesn't care much for music biz machinations, but they're a key factor here. The record labels don't like Apple's dominance in digital music downloads. In fact, they're actively trying to open the market up for other stores. So a new download service from a company as big as Nokia has the full backing of the major record labels, and Nokia may even be able to nab a few exclusives to fuel its growth.
4. Nokia will have streaming from the start. Although most digital music is currently purchased as standalone downloads, a growing sector is subscription-based streaming, where you pay a set amount every month for unlimited plays of music over your computer's broadband connection. iTunes doesn't do this, but Nokia Music Store will, from day one. It's a sign that Nokia is keen to explore new ways of consuming music, which if they catch on, could give it a head start over Apple.
5. Smart use of mobility. Another mobile-related reason here, which hints at Nokia's key strength in the upcoming battle with iTunes. Nokia has clearly thought hard about how people might access its store from their phones as well as their PCs, particularly with the idea of 'tagging' (where you mark a track on your phone for later download, when back at your PC). Not only does this get around operator data charges, but it's a smart recognition of the way people will soon access digital music stores from a variety of devices, in different contexts. Apple, as yet, is still lagging on this front.
If all this sounds a bit one-sided, don't worry - tomorrow, we'll have five reasons why Nokia may struggle in its battle with iTunes, just to be fair.
Other Nokia stories
Nokia 6555's analogue clock shows why old-skool design is a hit on mobiles
Where will mobile operators fit into Nokia's new London store?