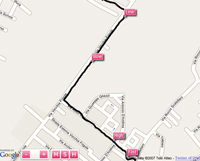 If, like us, you plan to spend the month of December getting fit before the Christmas pig-out, then the Nokia Sports Tracker mobile application may help you out. It lets you track your workouts via GPS and mapping, ensuring you know how far you've run (and thus, how many Yorkshire puds you can eat on 25th December).
The application has been around for a while, but it's just been relaunched with new social features, allowing you to share your workouts with other users. It's great if you're getting fit with a few friends and want to encourage each other.
It's a sign that sports and mobile phones now go beyond the rugged handsets that Nokia has been releasing for a few years now - the inclusion of GPS in phones means that athletes of all levels can use their phones as essential training tools.