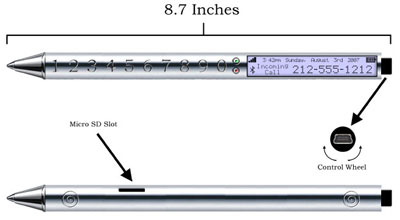 We've seen watches that double as mobile phones, but never pens. Check this concept product out, which is so hush-hush, it's not even finished yet. The image was sent to gadget blog Gizmodo by a mystery mole working for the (equally) mystery company producing it.
So, it's a pen that you write with as normal, but has an LED screen on one side, which displays the date, time and number of incoming calls. Everything appears to be controlled by a dial at the top of the pen, and there's even a Micro SD memory card slot squeezed in.
It'll connect wirelessly to a Bluetooth headset, or for people who don't mind looking ridiculous, you'll be able to hold it up to your face and talk into one end, with a speaker at the other. Crazy or genius? We think crazy genius, so we'll keep you posted on any news of it actually going on sale.
(via Gizmodo)