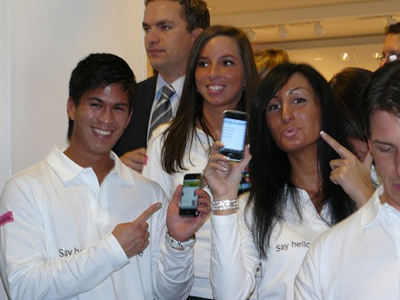 The iPhone went on sale in Germany this morning, resulting in thousands of happy purchasers waving their handsets in glee. Meanwhile, us Brits have to wait until 6.02pm tonight, just because... well, actually, we're at a loss to explain why we have to wait until the evening.
After all, it could have been 6.02am and there'd still have been people queuing around the block. Meanwhile, Engadget Mobile - the source of that Happy Germans photo - also reports that the latest edition of the iPhone's firmware has already been hacked, which in theory means people buying the iPhone today might be able to get it to work with non-O2 SIM cards.
We hasten to add, you shouldn't be trying to 'jailbreak' your iPhone unless you know what you're doing, as messing it up can leave your iPhone as a useless hunk of junk. But we're sure that won't stop plenty of Brits from trying as soon as they get home tonight...
(via Engadget Mobile)