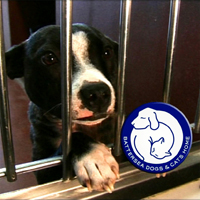 Battersea Dogs & Cats Home does hugely important work with stray and unwanted animals, and now it's trying a new money-raising strategy: a mobile portal called DOGMOB. The idea is that you pay to download mobile content by 'adopting' one of the home's dogs.
Don't worry, this doesn't involve a mutt actually being delivered to your house - the idea is more to raise awareness of the dogs that are looking for real-life adoption, but also to generate cash from the mobile content sales.
So, you choose a dog from the website, and text its name to 80022 to get sent a WAP link, which costs £3, but provides four downloads: an animated screensaver, wallpaper certificate, 'thank you' video, and a barking ringtone. It's well worth a go, if you're a dog lover. And don't worry feline-fanciers - CATMOB is apparently coming soon for moggies...