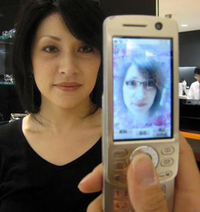 Wow. If we needed glasses (and we're sure the day isn't far off, judging by the way we're squinting at the screen as we type this), we'd go to Japan to get them.
Why? So we could use the innovative Mobile Fitting service that's being tested in the Megane Top spectacles chain. It involves taking a photo of yourself, then combining it with glasses downloaded from the store's mobile site.
Admittedly, it's not as good as, ahem, actually trying the real glasses on. But it presumably means you can go home and try on as many pairs as you like, without any assistants getting pushy. Specsavers, launch this soon!
(via Picturephoning)