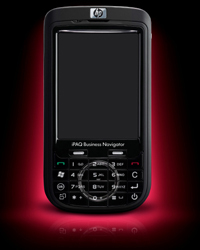 Pretty soon, it'll be necessary to explain what a PDA is to people young enough not to remember their heyday. The massmarket simply aren't interested in Personal Digital Assistants any more, thanks to the twin growth of smartphones on one side, and music/video focused personal media players (PMPs) on the other.
The main thing keeping PDAs going recently has been GPS navigation, but now even that is moving into smartphones (and, in China and Korea at least, into PMPs too). The announcement this week of new smartphones from HP shows the trend.
It's not the first time HP has released a phone, but in the past they've always been pitched to the public as 'connected PDAs' rather than pure smartphones. However, HP now has its sights clearly trained on the mobile market, even if it's still using its iPAQ PDA brand for the new iPAQ 600 and iPAQ 900 handsets. We're most interested in the latter, thanks to its full QWERTY keyboard.
HP faces competition from companies like Research in Motion (which makes the BlackBerry) and HTC, among others. But its heritage in the business community gives it a strong chance of establishing a decent slice of the smartphone market.
(via SlashPhone)