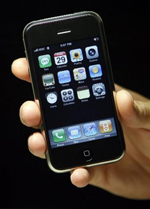 Getting excited about the imminent iPhone launch yet? There's one issue to watch out for though. Engadget Mobile has been digging into the unlimited data tariffs being offered in Europe by O2 (UK), T-Mobile (Germany) and Orange (France), and it seems they're not that unlimited.
In the UK, O2 has an unofficial fair-usage policy that could involve you being charged extra if you access more than 200MB of data in a month. In Germany, if you exceed your limit, it's reported that T-Mobile will cut the speed at which you browse!
We wonder how many iPhone users will keep close tabs on how much data they've used in a month though: there could be some nasty surprises in store for particularly heavy users, even though the operators say their limits have been set to ensure the vast majority of iPhone owners don't have a problem.
(via Engadget Mobile)