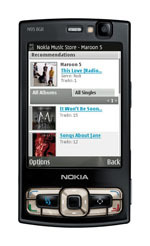 Yesterday, we outlined the five reasons why Nokia's just-announced Music Store has a realistic hope of challenging Apple's iTunes Store for digital market dominance. In the interests of fairness, now it's time to take the glass-half-empty approach, and look at the key challenges faced by Nokia's new download service.
1. Apple is a mighty foe. When you're talking legal music downloads, Apple pretty much built the market with iTunes, and while its dominance isn't set in stone, it's a huge challenge for any other company to try and unseat it. Just as we're rightfully sceptical about any claims that the iPhone will make huge inroads into Nokia's market share in mobile, so we should be careful about wild claims that Nokia can do the same to Apple in digital music.
2. The Nokia Music Store DRM. At the moment, there's a big trend in the music industry towards DRM-free music - tracks sold without any restrictions on how you can play or copy them. iTunes has introduced its iTunes Plus files, while Amazon's soon-to-launch digital music store will be entirely DRM-free. Yet Nokia has bucked the trend by deciding to use Microsoft's Windows Media DRM for its own store. If DRM-free downloads turn out to be big, Nokia will be forced to backtrack.
3. The operators are getting shirty. It's already been reported that 3 won't be selling Nokia's N81 handset due to concerns over the Nokia Music Store competing with its own 3 Music Store, while a leaked memo from Orange last week hinted it's not too pleased with Nokia either. By launching its own music service, Nokia is facing a fight with mobile operators that could restrict the availability of the handsets needed to access it - or at least make them so expensive (due to being sold SIM-free) to harm sales.
4. Browser restrictions. The web element to the Nokia Music Store is pretty important, yet for now it will only work on Internet Explorer 6, meaning that anyone who uses other browsers (Firefox, mainly, but also Safari and older versions of Internet Explorer) can't use it. It's a strange omission, particularly given the growth of Firefox.
5. Handset restrictions. The Nokia Music Store isn't going to change the world until it's available for ALL of Nokia's music-capable phones, not just a few Nseries and XpressMusic handsets. It's understandable that Nokia is starting with a few models, but it will need to increase them quickly if it really does plan to take on iTunes.
That's what we think (although don't forget the Five Reasons Why Nokia Music Store CAN take on iTunes). What's your view though: can Nokia be a big player in the digital music world, or is its music store destined to be a miss, rather than a hit? Post your comments and let us know!