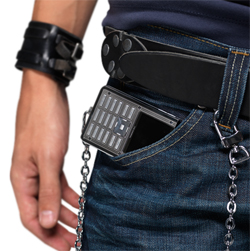 There is no shortage of big brands wanting to get some mobile lustre. Witness the recent fashion phones involving Prada and Armani, for example. Now jeans-maker Levi's wants to get in on the act, and has partnered with Samsung to make a Levi's-branded handset.
Several versions are available, including metallic silver, black, brown copper, "shiny silver" and "shiny sand" (those last two are aimed at women). The blurb says that "the functional essence of the Levi's brand's design philosophy is perfectly captured by the phone's compact design and sturdy riveted steel casing". Quite. It also has a detachable chain to dangle the phone from your jeans.
Feature-wise, it's got a two-megapixel camera, MP3 player and FM radio, Bluetooth and a 262k-colour screen. We wonder if it'll be sold alongside Levi's clothes in retailers, which would be interesting.